Dear Friends and Patrons of the Arts,
    Over the years, you have invited me into your home through my
artwork. I have cherished the opportunity to meet and develop
relationships with you at festivals and in my gallery, as well as the
chance to share with you snapshots of my life on the farm through
watercolor.
However, there are still country roads I would like to travel, and
visions left to put to canvas. So, after years of art shows and
countless miles on the road, it is time for me to settle down, and focus
on the works that are still running around in my head.
I want to concentrate on subject matter that means a lot to me
personally, that the strictures of life on the road would not allow. As
you already know, the hectic life of an artist does not lend itself well
to long-term projects. My new focus will be Gallery Shows and National
Competitions. That, of course, means more time in the studio.

While I may be gone from the Festival circuit, I am not forsaking
the Art World. My Original Watercolors and Limited Edition Prints
have found a new home at:

     ALL OCCASIONS
     229 Market Street
     Maysville, KY 41056
     800-564-9014
     https://www.facebook.com/AllOccasionsMaysville
     Hours: 10 AM – 5 PM
     Tuesday – Saturday


And, as always, you can purchase Originals and Prints
online at kentuckyfarmstudio.com.


If you are in the Maysville, Kentucky area, please stop in.
Old Friends (and New Ones) are always welcome.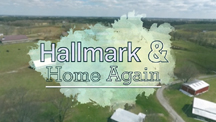 Lu was featured on KET's "Bluegrass and Backroads." Take a look by clicking above!
Enjoy a tour of Lu Fuller original watercolors by clicking here